Pouched Rat book reviews
The Complete Guide to Pouched Rat Care.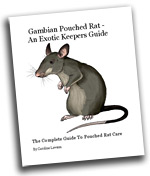 Author(s)

Caroline Lawson

Title

Gambian Pouched Rat –
An Exotic Keepers Guide

Sub title

The Complete Guide to Pouched Rat Care

Edition

n/a

Publication date

12 November 2009

Publisher

ISBN

n/a

Format

Hardback

Extent

20pp

Price

£19.95

Available from
Probably the very first in its field this book covers the main aspects of keeping Pouched Rats as pets and would be ideal for anyone with little knowledge or experience of the species.
The book starts with an general introduction and background to Pouched Rats and contains eight main sections. Each section covers a different aspect of Pouched Rat care from housing and diet to handling and breeding.
It is reassuring to see that the most detailed sections are bonding and handling, and breeding as these are the most critical aspects of managing Pouched Rats for any owner. The theme of responsible ownership runs throughout the book.
The book is lavishly illustrated with lots of very engaging photographs, especially of baby Pouched Rats. It is very professionally produced and, while it may be light on content for the more experienced keeper, as the first book of its kind it deserves its place on the bookshelf of every Pouched Rat enthusiast.